Talk to your cardiologist about when you can get back behind the wheel
Depending on the type of intervention, driving after a myocardial infarction can resume in one week to one month.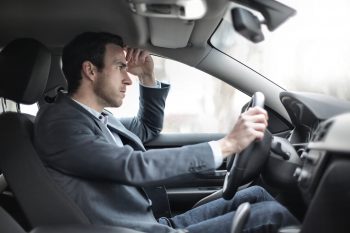 Driving can be stressful and could be an additional risk factor for heart disease. Your cardiologist will decide when you can resume driving based on several issues. These include the duration between onset of chest pain and the intervention, location of the myocardial infarction, the heart's pumping ability, the procedure used to restore blood flow to narrowed vessels and the degree of restoration, whether there are other narrow coronary arteries that either need to be opened or have inaccessible narrowing, stability of the heart rhythm, duration of hospital stay, complications in hospital, and participation in cardiac rehabilitation.
Recommendations about getting back behind the wheel vary. You should wait:
At least four weeks if you had coronary artery bypass graft surgery (three months for occupational drivers, who should have a stress test first).
At least one week if you had a myocardial infarction without complications and your heart's pumping capacity, called left ventricular ejection fraction (LVEF), is above 35%.
One month if you had a myocardial infarction with complications such as heart failure, LVEF below 35%, or a heart rhythm disorder (arrhythmia).
Six weeks for occupational drivers who had a myocardial infarction and LVEF is above 35%. Driving is contraindicated if LVEF is below 35%.
24 hours after a scheduled percutaneous coronary intervention if the procedure is successful and no arrhythmias are observed (one month for occupational drivers).